My life in skin care
By: Katie May
My reason for getting involved in the skin care business way back in 1971 was partly curiosity and partly vanity. I wanted to look as good and healthy as possible for as long as possible. I chose edible plant ingredients which I trusted and learned how to combine fine plant oils with water in balanced ratios to do the essential jobs of Cleansing, Moisturising and Feeding the skin. From the start I wanted to use the ingredients, which I would have been happy to eat, so lots of chemicals were completely out of the question. I found that selected edible plant ingredients (e.g., coconut, witch hazel, fermented soya, acidophilus, apple and orange) could be combined together to work with the skin's chemical structure and thus provide good skin health.
Physics is as important as chemistry for good skin care. Plant oils are fine and thin and when combined in specific ratios they will do a specific job. For example a Cleanser needs to have just enough oil to remove the dirt and dead skin cells as it completes the de-tox. The skin is the biggest eliminator of toxins of the body and this plays a big part in good health. Conversely a moisturiser requires more oil and less water, so that there is enough oil to absorb the important moisture into the skin. To keep the skin healthy throughout life, it is necessary from time to time (during hormonal changes for example) to include some protein to balance and assist regular daily skin cell renewal.
This became a fascinating life long study, which has resulted in the A-Mia range of skin health products. My curiosity to make the best of my own skin soon led to helping others. This was done in cooperation with beauty therapists and herbalists, who tested various products on their clients to obtain optimum results. I have created and tested many combinations of plant ingredients, which now include, organic herbs as well as the oils and fruits from my earliest formulae.
A-Mia is my in house brand, which includes a wide range of products for both face and body. There are products, which can be used throughout life. The Cleanser , Face Mask and DN-AMINO-LIGHT used together is good for acne, whenever it occurs throughout life, the Rose Nourishing Cream is the one to maintain the youthful glow and DN-AMINO-RICH is a great skin booster during the winter months or when spending lots of time in front of the VDU screen.
Inevitably, I became interested in the healing energies, which led to me doing a number of healing courses over the years and thus to the use of elixirs of crystals, as well as the essential oils and herbal tinctures, some of which are home grown and of course organic. All of these essential and energetic ingredients are provided from the good nature of our planet, so I chose the simple name A-Mia, derived from the word LOVE, which I believe is the essence of THE EARTH.
So often I here the words from customers "I have used your products for more than 30 years and I receive lots of compliments about how well my skin looks." It is this that makes my job worthwhile.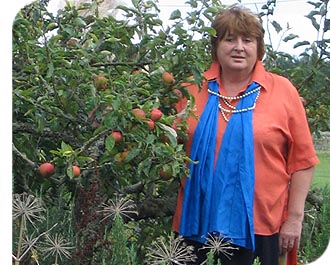 ---
About Us
Katie May, Skin Care Formulator
It was during 1971, that Katie May became interested in the science of skin care.
Coming out of the food industry, she understood both the best and the worst of modern food production and rejected the use of chemical fertilisers, routine antibiotic and hormone treatment of animals destined for the food chain.
This resulted in pure thinking for her skin care and the use of the best quality edible plant (food grade ingredients) – including nuts, grains, pulses, plant enzymes and oils. She excluded thick mineral oils and heavy unabsorbable bovine collagen , which is routinely used in the skin care industry.
Most significantly, she pioneered the use of fermentation processes in skin care. The foremost of these released the full amino acid pattern that creates DNA & RNA. She discovered that during the reproductive years the skin produces a "special kind of protein" and balancing this protein correctly with each persons individual body chemistry led to an enormous knowledge and the best of facial care. Formulation is a combination of precise arithmetic, evaluation of ingredients, assessment of body chemistry, combined with a depth of creativity, which is profound.
Katie May's interest in creative and healing energy has led to a lot of groundbreaking work with elixirs of crystals and mood enhancing essential oils. The vibrations of the energy of the earth has been understood by the wise for centuries and these powers are now being combined into the fermentations to enhance the activities of the amino acids and plant enzymes in many diverse ways. Projected and finished formulations include more sophisticated hormonal balancing creams, stress busting and stimulating products, including research, testing and development of products for hyperactive children.